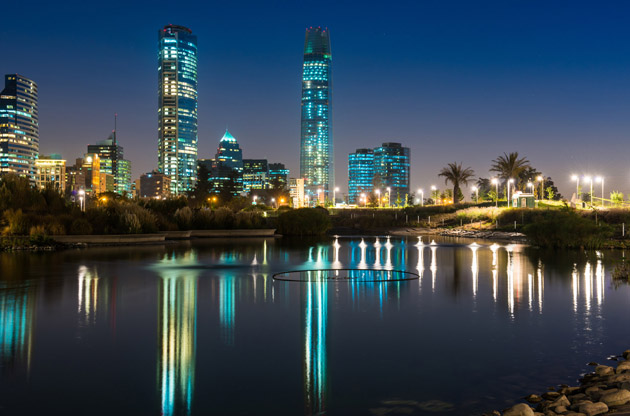 The capital of Chile, Santiago, officially Santiago de Chile is a city that is surrounded by the beautiful Andes Mountains. As the country itself is one of the most fortunate ones in terms of geographical location, Santiago has taken its share from this beauty. It is possible to find yourself enjoying the cultural treasures in the city, then skiing and then taking a bath in the bluest of the Pacific's water.
Home to almost 7 million people now, this is actually more than 1/3 of the whole Chile, Santiago de Chile is an old city. It was founded in 1541 and since then has served as the cultural and artistic center of the country. Historical texture of the city has found a good way of mixing with the modern day and this one thing that separates Santiago from the metropolitan capitals in the world.
The weather conditions in Santiago de Chile doesn't fall far from the expected regular characteristics of the Mediterranean. Dry and hot summers are followed by mild winters. However, while you are enjoying a mild winter night, you can see the snow falling to Andes.
Also the setting of Hemingway's The Old Man and The Sea, there are a lot to see and try in the Santiago de Chile. Apart from the historical landmarks and the museums to explore, the offerings of the city when it comes to shopping, dining and excursions are hard to beat when compared to any capital in South America.
Santiago de Chile is actually the sincerest capital in that region and I am sure you will feel what I mean the moment you start exploring the city. The nice and warm blooded attitude of the Chilean people will accompany you during your trip and you will leave the city with a bag of beautiful memories that you will want to remember over and over again.
How to get to Santiago de Chile?
Comodoro Arturo Merino Benítez International Airport, with is generally known name Santiago International Airport is located 15km northwest of the city center. The official website of the Comodoro Arturo Merino Benitez Airport provides the necessary information concerning airport transportation.
How to get Around in Santiago de Chile?
Santiago de Chile has got one of the most efficient local transportation system in South America. Most of your excursions are going to be easy if you prefer taking the subway. Metro Santiago helps to find more about the schedules and route planners if you know some Spanish.
Buses work on time on main routes in Santiago de Chile. Most of them are modern and clean, so there is no need to hesitate to use them. In addition, renting a car in the city is also advisable especially if you would like to explore the areas nearby Santiago de Chile.
Attractions in Santiago de Chile
If you would like to make the best out of your time in Santiago de Chile, then I strongly recommend you to make a plan for your free time because the abundance of the things to do in the city makes it really hard to choose something just randomly.
Museums & Sightseeing in Santiago de Chile
Museum of Memory and Human Rights, Chilean National History Museum, Santiago Museum of Contemporary Art, Museo de Arte Sagrado, Basilica de la Merced and Centro Cultural Palacio de La Moneda should be included in your list in Santiago de Chile if you are interested in museums.
The wonderful Pablo Neruda's house, La Chascona is now a museum and if you have time and interest, it is definetly among the ones that shouldn't be missed while in Santiago de Chile.
Parque Metropolitano, Santa Lucia Hill and the National Library, Plaza de Armas, Santo Domingo Temple and Casa Manso de Velasco are the important points of interest in the city to see.
Dining & Nightlife in Santiago de Chile
If you would like to shake the tiredness away of a hectic day by eating some of the most delicious examples of the Chilean cuisine and enjoy a couple of glasses of wine, you may have a hard time to choose in which restaurant to do so because Santiago de Chile is basically filled up with a lot of places do dine.
Bellavista district is famous with all types of restaurants. You can find both Chilean and international cuisines in changing price ranges. El Bosque - Isidora Goyenechea and Providencia Suecia are also good options to enjoy an exquisite dinner or lunch.
Bellavista is also a good option to have some fun at night as there are lots of pubs and bars in the neighborhood. Plaza Ñuñoa is also famous among both Chileans and travelers as it offers a wide range of stylish cafes and clubs, too. Calle Suecia, which can be translated into English as the Swedish Street also has got some places to check out.
Shopping in Santiago de Chile
Alonso de Córdova Street and Nueva Costanera Avenue are the places that you can find worldwide known, luxury stores such as Burberry and Louis Vuitton.
Centro Artesanal Santa Lucia is the area where most of the little shops which sell handicrafts are stored. This means more budget and authentic shopping in Santiago de Chile. You can also come across to some of the street markets in the area.
If you are a flea market lover, then I would strongly recommend you to visit Persa Bio Bio in Franklin district in Santiago de Chile. You can find literally anything you want there for comparatively cheaper than anywhere in Santiago de Chile.
Excursions in Santiago de Chile
If you are sports fan, especially, if you like climbing, then probably you are in the best spot to do so. The mountains around Santiago de Chile are suitable for climbing as well as hiking and biking, too. Visiting a wine yard is always a good idea in Santiago De Chile. You can also consider skiing, as the city provides you with some of the best skiing courses in the world.
If you have a couple of days to spend outside of Santiago de Chile, you can consider visiting some of the nearby places. Baños Colina hot springs, Pomaire and Vina del Mar can be reached within a day from Santiago de Chile and all of them offer a great exploration with fantastic scenery.
Event Tourism in Santiago de Chile
The natural beauty of Santiago de Chile has been attracting a lot visitors from many different nations for a while. However one cannot underestimate the effect of the success of the international events that are held every year in the city on visitor number. Large scale tradeshows, fairs, exhibitions, symposiums, congresses and conferences are held every year in Santiago de Chile. With the help of venues and halls that can meet the necessities of such events, Santiago de Chile is climbing to the tops of the list of the most suitable cities for these kind of international events.