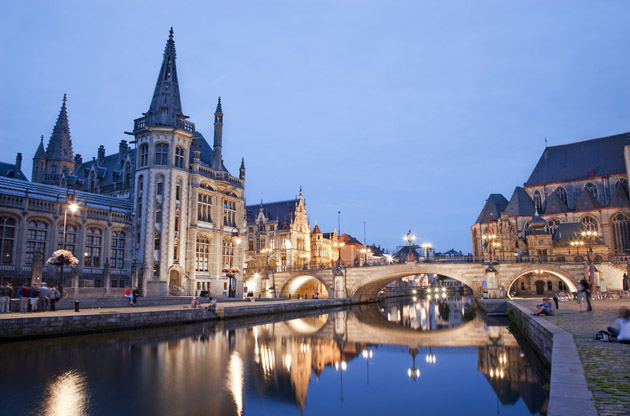 To get away from the every day life, simply visiting a new city may not be enough. How about a journey through time?
Belgium's most charming town Ghent takes every visitor back to the Middle Ages with its incredibly well-preserved buildings and plazas. Medieval architecture, streets emanating historical atmosphere and a relaxing ambience make Ghent the perfect city holiday destination. Despite its old exterior, Ghent is a modern city offering a lot to see and experience for the contemporary visitor.
Ghent is not a big city, it has got less than 250,000 inhabitants. This adds to its charm, making it intimate and leisured. It is not as well known among tourists as, for example, Bruges closeby, therefore offering a unique perspective to Belgian history. Despite its young population, the heritage is well known and respected by the locals and they are more than willing to showcase it to you.
As one of the richest cities of the Middle Ages, the architecture visible in the many churches and houses is flamboyant and grand. The city has maintained this atmosphere by keeping the city centre free of cars, allowing the historical aspect to seep into every corner.
A large portion of the city residents are university students. It is not surprising most inhabitants are well-educated, effervescent and open-minded. As such, it is very attractive to foreigners and artists, creating a unique mixture which is both inspiring and colourful in itself.
Come and feel the one of a kind soul of this beautiful city for yourself and see how quick it is to change your list of favorite cities after hugged by the beautiful aura of Ghent.
Where is Ghent?
Ghent is located roughly 50 km west of Brussels and Antwerpen, and 50 km from the North Sea coastline.
How to get to Ghent?
Ghent doesn't have an airport on its own however the city is still relatively accessible from the major cities, such as Brussels or Antwerp. Both of the airports provide the travelers options of a train or bus ride to the center of Ghent.
Attractions in Ghent
The whole city forms a medieval sight, yet there are a few highlights not to be missed. The centre of Ghent is small, therefore walking is the perfect option for getting around.
Sightseeing & Museums in Ghent
Sint-Baafskathedraal
Saint Bavo's Cathedral is one of the most beautiful churches in Belgium. Right in the middle of Ghent, its belltower offers a brilliant view over the city. The cathedral hold several art treasures, including The Adoration of the Mystic Lamb painted by the Van Eyck brothers in 1432.
Het Gravensteen
The Castle of the Counts is one of the few perfectly preserved thousand-year-old castles in Europe. Originally built as a residence for counts, the castle is a fascinating dive into medieval habits, architecture and even torture chambers! Venue for medieval exhibitions and events.
Architectural Wonders
History oozes from every structure in Ghent, with each corner presenting its own story. Well worth the visit are Graslein and Koornlein medieval harbours, where each building is more beautiful than the other. For "just" a century-old history, visit Vrijdagsmarkt and the Kunstencentrum Vooruit on Sint-Pietersnieuwstraat for social-democratic cultural heritage sites.
STAM
Located within a 14th century Bijloke Abbey, the Ghent city museum will take you to a tour to the history of Ghent. Hundreds of objects and visual shows. Very child-friendly.
Shopping in Ghent
Veldstraat
For department stores, head out to Veldstraat. Locals frequent the area, and it is reachable only on foot or by tram.
Vrijdagmarkt
If you happen to be in Ghent on a weekend, make sure to visit the 700 years old Friday Market, although despite its name its open on Friday mornings and Saturday afternoons.
Dining in Ghent
Belgians appreciate their cuisine as one of the finest in Europe, combining French, German and Dutch influences. You can't go wrong with any of the restaurants, as each is worth the visit.
De Blauwe Zalm
One of the best seafood restaurants in whole Belgium, with unique and artistic touch of both interior and the menu.
Volta
Located inside a huge turbine hall, Volta offers delicacies without a match. Out of city centre, yet well worth the visit!
't Klaverblad
For high-scale dining within the city centre, walk into any of the restaurants around Patershol, close to Gravensteen castle. 't Klaverblad offers one of the best French cuisines in town, along with a friendly staff and atmosphere.
Nightlife in Ghent
As a university town, the nightlife is hectic and thoroughly fun to take part in.
Overpoortstraat
Most students head out to this street on Wednesdays and Thursdays to dance on bar tables, with latest hits booming off each bar. The street is filled with dozens of venues, each next to each other.
De Dulle Griet
For a traditional Flemish bar, seek out de Dulle Griet, offering hundreds of Belgian beers.
Hot Club de Gand
Famous for its live jazz, blues and jam sessions. Open as long as there are customers!
Excursions in Ghent
Exploring the surroundings of Ghent is easy, as trains operate to all the cities and towns nearby. Bruges, the Venice of the north, as well as Brussels, the capital of European Union, are just over half an hour train ride away.
Event Tourism in Ghent
Being located next to Brussels, it is ideal for international guests staying in Belgium for a weekend or two. The Ghent Festivities, the Light Festival, Winter Festivities and Film Fest Gent are each charming yet notable on an international scale. Moreover, as a getaway from the political buzz of Brussels, Ghent offers a perfect venue for international congresses, conferences, trade shows, symposiums, fairs and exhibitions.
Travel Tips for Ghent
Ghent is a very safe city, due to lack of mass tourism.
As a big portion of inhabitants are students, they are very friendly and welcoming. While the nightlife especially around Overpoortstraat can be intimimdating for older visitors, all authentic Ghent residents love their city and its history.