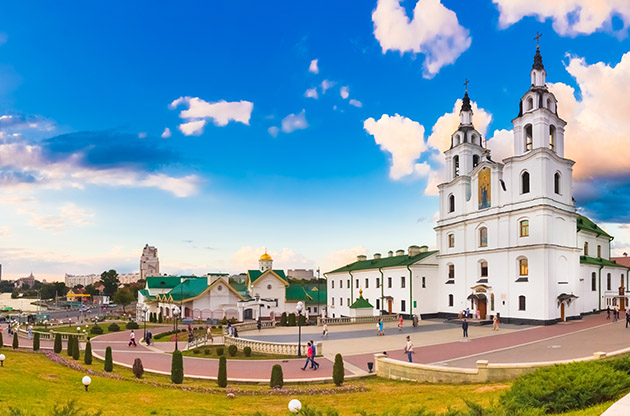 The capital of Belarus, Minsk, will make you feel at the moment you enter into the city that it is one of a kind. After the war, it was rebuilt in a fascinating way and as well as its architectural structure, the natural beauty of Minsk is also splendid.
The local people (Minchanka) are always kind and in many cafes and restaurants staff can speak fluent English. Although the weather may be really cold in winter months, the social life doesn't get affected by the cold weather and you see that bars, nightclubs or cafes are swarming.
The streets are neat, clean and safe in Minsk and for tourists, there are lots of things to do and places to see in and around the city. The magnificent library takes you in with thousands of books and its cozy atmosphere while National Arts Museum hypnotizes you with its large art collection.
Briefly, if you are getting ready for a trip to Minsk, you should feel lucky because Minsk offers much more things to discover than you ever expect.
Where is Minsk?
The capital city of Belarus, Minsk is located almost in the heart of Belarus on the rivers Svislach and Nyamiha.
Getting to Minsk
If you prefer to travel to Minsk by plane, there are two international airports in the city. Minsk International 1 Airport (MHP) is located 10 minutes away from the city centre. Minsk International 2 or Minsk National Airport (MSQ) is the main international airport in the city. It is located 42 km away from the city centre. For more information about the airports and the transportation options to and from the city center, you can visit the official websites of Minsk National Airport and Minsk International 1 Airport.
Things to do in Minsk
Sightseeing
Victory Square
The obelisk in Victory Square is a place for remembering the people died in the World War 2 and an impressive tourist attraction. The square was known as the Circus before the obelisk when erected and then the square was made into a memorial. Around the Victory Square there are many examples of 1950s architecture and a museum that showcases the history of the square. You can also access the popular Gorky Park from Victory Square.
National Library of Belarus
National Library of Belarus is known for housing the largest collection of Belarusian printed materials and it also has the 3rd largest collection of Russion books after Russian State Library and Russian National Library. This rhombicuboctahedron shaped modern building can seat about 2000 readers and has a conference hall.
Museums
Belarusian National Arts Museum
Belarusian National Arts Museum is the largest and the most important museum in Belarus and showcases more than 25000 art pieces. The museum has two collections one of which is national and the other showcases work of arts from other nations.
Museum of the Great Patriotic War
Museum of the Great Patriotic War is a museum that exhibits the photographs and other kinds of documents about World War II. It is known as it being first museum for World War II that was open during the war. Above the building, you'll see a sign that says "The feats of mankind will live for centuries" when translated to English. This impressive museum is located in Oktyabrskaya and is open daily except for Mondays.
Shopping in Minsk
If you like to shop in Minsk, you should know that you are more likely to find local stores. International brands or chains are not common city but for unique shopping, it's better this way.
GUM
The GUM is one of the most popular and the largest department stores in the city. Dating back to 1934, GUM has been the heart of the shopping in Minsk and you can find children goods, shoes, cosmetics, Belarusian souvenirs or clothes. The GUM is located in Independence Avenue and you can reach there using Oktyabrskaya, Kupalovskaya Metro line.
Zhdanovichi
Zhdanovichi is regarded as the "shopping city" in Minsk since it is the largest shopping center not only in the city but also in Belarus. it is composed of many trade facilities like Mir Mody, Grad, Food center or Lebyazhy and all of which sell different kinds of things. For example in Mir Mody you can find clothes and footwear while Lebyazhy is for auto-market and the radio-market. If you like to shop for handmade items or jewelry, you can head to the flea market that is called Wonderland.
Na Nemige
Na Nemige is located in the historical downtown of the city and it should be your address if you like to shop for cosmetics, shoes, jewelry and accessories. You can reach there by metro, getting off at Nemiga station.
Dining and Nightlife in Minsk
In Minsk, eating is an excellent experience since you can encounter many impressive local restaurants all of which offer delicious food and fortunately you won't see any fast food chains in the city.
Kamyanitsa
If you like to taste traditional Belarusian food, Kamyanitsa will offer you a great diversity. Cold bread and fresh homemade bread are what Kamyanitsa is famous for. Apart from the best food, the mediaeval atmosphere will surround you. Kamyanitsa is located in Pervomayskaya Street.
Loft
Loft is both a nightclub and a stylish restaurant that suits everyone's taste. It has a tasteful cocktail collection and an offers an original cuisine. It has 3 different zones that makes everyone comfortable. You can ear in the dining room, sip your drink at the lounge zone or dance until dawn at the nightclub zone.
Grand Café
Grand Café is one of the classiest places in Minsk. The menu is based on Italian cuisine but you can pay a visit to have a drink at its sensational bar. Since it is a popular place, you'd better make a reservation especially for the evenings and the weekends.
Excursions and Tours in Minsk
If you are in Minsk in winter season, so you are lucky to visit Silicy and Lahojsk where you can have a rest and do winter activities like skiing or snowboarding. These places are not so far away from the city center so if your time is limited, you can just go for a one-day trip.
Another daily tour can be Mir Castle as it is located 85 km away from the city centre. The castle was once belonged to Radziwil family and now it has a museum inside that showcases the history of the castle which was used as a ghetto for local Jewish people during World War II.
Events in Minsk
Minsk, having a very central location in the heart of Europe, is regarded as a perfect hub for international business or academic events like trade shows, congresses, conferences, symposiums and exhibitions. Minsk also has many reputable venues that meet the international standards like Minsk National Exhibition Centre and Belexpo Fairground and each year numerous events are held at these venues to draw international attention.