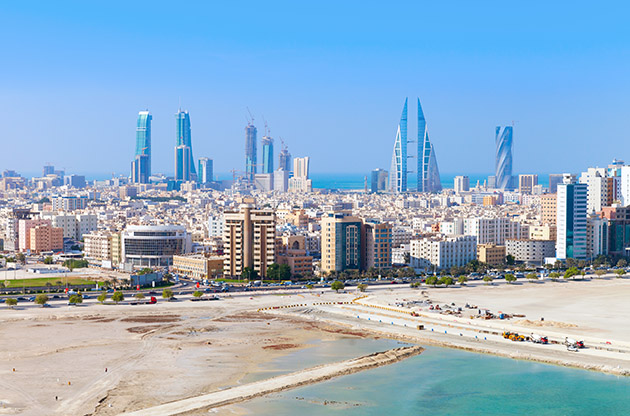 Manama, the capital and the largest city of Bahrain is the shining face of the country. This city is so vivacious that it can be beyond your expectations.
If you like to experience the old world charm together with the modern and fascinating life you are at the right place because Manama is the cultural, social and financial center of the region. Late night shopping places, entertaining night clubs, stylish restaurants, the stunning marina as well as the magnificent mosques and more. Manama's known as the Arab City of Culture is not for nothing.
Manama's heart beats for music, art, history, culture, shopping, entertainment, dining and more. If you think you don't have enough energy to visit this lively city, don't visit Manama because you may not catch up with it. Ready to explore this never sleeping city of culture and entertainment? Welcome to Manama's bright world!
Where is Manama?
Manama is located between Iran and Saudi Arabia, in the Persian Gulf.
Getting to Manama
To reach Manama, you can prefer Bahrain International Airport that is located in Muharraq and only 10 km away from Manama city centre. For more information about the airport and the transportation options, you can visit the official website of Bahrain International Airport.
Things to do in Manama
Sightseeing
Tree of Life
The Tree of Life or Shajarat-al-Hayat is a popular tourist attraction in Manama because it's more than 430 years old and it's living out of completely dry sand. However, it has fresh green leaves and looks quite lively. Tree of Life is located 10 km away from Askar and visited by 50000 visitors each year.
Barbar Temple
Barbar Temple is an ancient temple that dates back to 3000BC. Believed to be from Dilmun culture, it is built of limestone blocks. There are 3 temples built atop one another and the oldest one is estimated to date back to 3000BC.
Al Fateh Mosque
Known as one of the largest mosques in the world, Al Fateh Mosque covers 6500 square meters of area and can house 7000 worshipers at the same time. Although it was built no later than 1987, it is one of the most popular mosques in the world thanks to its magnificence. Its large dome is made of fiberglass and weighs more than 60000 kg. Al Fateh Mosque also has a library within Al-Fateh Islamic Center and houses approximately 7000 books some of which are 100 years old or more.
Museums
Museum of Pearl Diving
As pearl diving is one of the major livelihoods of Bahrainis, the Museum of Pearl Diving is a remarkable touristic place in the city. In the museum you can gain insight about the heritage of this industry. The building is also important because it is the first official center for the Bahrain Courts.
Bahrain National Museum
Being one of the oldest public museum in Bahrain, National Museum consists of two buildings and covers 278000 sqm of area as it is also the largest museum in the country. In Bahrain National Museum you will have the opportunity to see a rich collection of Bahrain's ancient history. National Theatre of Bahrain is also located just next to the museum.
Shopping in Manama
The Manama Souk
If you are intended to do shopping in Manama, The Manama Souk should definitely be your first stop. You can find everything there from antiques or gold to electronics at reasonable prices. From open-air stores to department stores there are many sellers awaiting. Remember that to get the most out of the souk, you'd better explore there on foot.
Carpet Shops
In Manama, it is possible to find the best carpets and rugs in the world. And if you are interested, you may head to the carpet shops to buy carpets from Turkey, China or Afghanistan at cheaper prices.
Dining and Nightlife in Manama
Manama is famous for its nightlife as the city never sleeps and it is full of lively bars, fine restaurants and entertaining nightclubs. The main districts that you can head to for a great night out are Adliya, Juffair, Business District and Hoora.
Restaurants
Masso
Masso Restaurant is located in Palace Boutique Hotel and serves organic European cuisine. Before the restaurant opens, you can enjoy the delicious cocktails in a fine atmosphere. Reservations are recommended on each day so you can make your reservations online via the official website of Masso Restaurant.
Upstairs Downstairs
Another elegant restaurant in Manama is Upstairs Downstairs that serve international cuisine and it's an award-winning restaurant. You can try anything from curries to French food and grilled dishes. Upstairs Downstairs is located in Adliya and reservations are recommended especially at the weekends. For more information about the restaurant, you can visit the official website of Upstairs Downstairs.
Veranda Restaurant and Café
Veranda Restaurant and Café is a unique restaurant with its decoration and it serves Middle Eastern cuisine. Its rich menu offers great food from barbecue buffets to exotic fruits and fried appetizers. It is located in Sheikh Isa Avenue. For more information about the restaurant, you can visit the official website of Veranda Restaurant and Café.
Excursions and Tours in Manama
If you have some extra time in Manama, Hawar Islands will make a perfect getaway. These group of islands are located in the Gulf of Bahrain. Its unique environment with endangered species make these islands highly interesting.
Events in Manama
Manama, known as the Arab City of Culture, is popular with its social and cultural life as well as being the financial hub in the area. Considering its economic growth rate and its importance in the region, prominent organizers choose Manama for reputable international business or academic events such as conferences, congresses, trade shows and fairs.