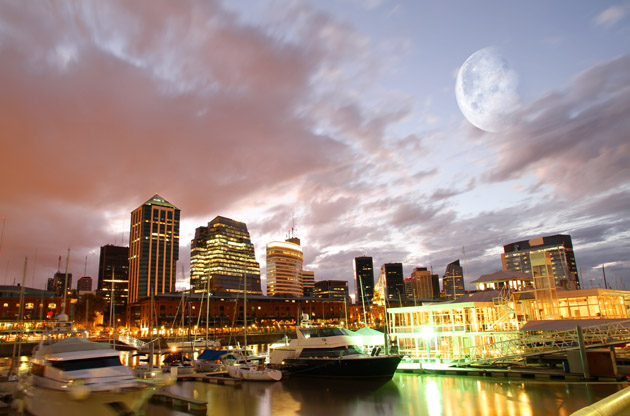 "Fill me up with your heat, with your noise, with your dirt, overdo me, let me dance to your beat, make it loud, let it hurt, run it through me. Don't hold back, you are certain to impress. Tell the driver this is where I'm staying" sings Eva to Buenos Aires in the legendary film Evita. Come and take a closer look to the city of passion, Buenos Aires. Caution! It can be addictive.
When you hear the names of the people, you think you are in Italy. When you see the grace of the architecture, you swear you are Paris. When you witness the football rivalry, you think you are in England. When you taste the soft and delicious steak, you think you are in heaven. In fact, you are in Argentina, In Buenos Aires, the homeland of tango and the city of passion.
Feel the Latin Heat in Buenos Aires
We bet you have never seen a city alive that much. Especially in warm weather, all the streets are occupied with tables and people have their dinner together with joy. The nightlife does not start before 1 o'clock and goes on even until the afternoon. The porteños (the people of Buenos Aires) are always welcoming and warm-blooded. You can feel the Latin heat and the passion while watching a tango show or on a football derby night between Boca Juniors and River Plate. Even it can be felt in the taste of the steak, in every corner of Buenos Aires and Argentina.
Get Amazed by the Greatness of Buenos Aires
Buenos Aires is a big and plain city that has large roads one of which is the largest avenue in the world, 9 de Julio Avenue. Vast green parks in nearly every corner give you the sense of freedom and the continuous fine weather warms you inside.
Being under the influence of Europe, but located in Latin America, after all having a distinct characteristic Buenos Aires will give you what you are looking for. Sweep your leg in tango and shoot the ball to score a goal! Take a deep breath and get ready for an unforgettable journey in Buenos Aires, the apple of the eye of Argentina!
Where is Buenos Aires
The second largest city in South America after Sao Paolo and the capital city of Argentina, Buenos Aires is located on the eastern part of South America and have a coast on Atlantic Ocean.
Getting to Buenos Aires
There are two airports in Buenos Aires that you can use for your arrival. One is Jorge Newbery located in Palermo and the other is Ministro Pistarini located 22 km away from the city center.
You may prefer buses, taxis, car rental or chauffeur cars for the transfer from airports to the city centre or directly to the congress venue. For detailed information about the transfer options, you can check the official website of the airports here and choose your airport.
Things to Do in Buenos Aires
The best three thing that you should do in Buenos Aires can be listed as below:
Watch a Tango show and even perform yourself!
Watch Boca Junior's, Maradona's legendary team's football match at La Bombonera.
Go to a show in Teatro Colon.
Recoleta Cemetery
Being home to Eva Pera's grave, Recoleta Cemetery also contains the graves of many notable people. Buenos Aires' most popular tourist attraction place Recoleta Cemetery should be on top of the list.
La Boca
Known mostly for Boca Juniors, La Boca is a neighborhood having European, especially Italian spirit. Popular the colorful buildings and the famous Caminito Street makes La Boca a popular tourist attraction.
La Casa Rosada
Meaning The Pink House in English, La Casa Rosada is used as the office of the president of Argentina. With its significant color of light pink La Casa Rosada is one of the symbols of La Casa Rosada and has also a museum in it which exhibits the objects related to previous presidents of Argentina.
The National Museum of Fine Arts
Situated in Recoleta, The National Museum of Fine Arts (Museo Nacional de Bellas Artes) has a permanent collection, little pieces of art like sketches, jugs and an art library home to 150000 books.
Evita Museum
When you hear the name of Argentina, Eva Peron or Evita is the first name that comes to your mind. Evita Museum in Buenos Aires is a perfect chance to discover the secrets of this great figure of Argentina.
Nightlife and Dining in Buenos Aires
Restaurants in Buenos Aires
Casa Cruz
Casa Cruz is probably the best restaurant in Buenos Aires and one of the best ones in Argentina that offers you a rich menu of modern Argentine cuisine.
Le Mistral
Located in the Four Season's Hotel, Le Mistral is a perfect restaurant for the tasty dishes, unique desserts and a fascinating setting.
San Telmo, Recoleta, and Palermo Soho are the best areas that you can have a great night at the clubs, bars or theatres. If we need to go in details Boca Tango and Senor Tango are the places where you will have an unforgettable tango experience and dine.
The show of La Bomba de Tiempo at Ciudad Cultural Konex is also highly recommended especially if you like percussion.
Shopping in Buenos Aires
Buenos Aires if mostly famous for the precious stone Inca Rosa, wool and leather products. If you are thinking of what you should buy from Buenos Aires these may be the best choices. There are many kinds of jewelry types that are made of Inca Stone and they will make the perfect souvenir.
Unicenter, not only Argentina's but also South America's largest shopping center, Florida Street and Galerias Pacifico are among the best points for shopping.
Excursions and Tours in Buenos Aires
Tigre
Lying 30 km away from Buenos Aires, Tigre has many things to attract you. Natural islands, streams, rivers, rowing clubs, marinas and elegant mansions will make you feel like you are in paradise.
Colonia Del Sacramento
Located in the opposite coast of Buenos Aires, Colonia Del Sacramento in Uruguay is 1 hour away from Buenos Aires by ferry. When you are so close, do not miss the chance to see this city under the coverage of UNESCO World Heritage.
Events in Buenos Aires
Both being one of the biggest and the most important city in the world in terms of politics and economy, Buenos Aires is the most preferred meeting point in South America.
With its culture, history, tradition and hospitable people, and the perfect blend of the old and modern, Buenos Aires is being home to many events like conferences, congresses, symposiums, fairs and exhibitions.
The developed infrastructure, tourism services and large venues with modern facilities play an important role in Buenos Aires' being such an important meeting point in Argentina and in the world.
Congresses in Buenos Aires are large scaled and varied so they address to the international participants which makes Buenos Aires a perfect hub for these kinds of events.