If you have relatively a small business and you are in search in growing it, you are also perfectly aware of that attending a trade show is requisite for you. You may have read a lot about the benefits of attending or exhibiting at a trade show and you make a -let's say huge- investment expecting a remarkable ROI, but sometimes things may not go your way. So if you believe that you did everything for the sake of trade show success, you may want to think again. Here're the secret keys to trade show success that may be escaping you.
1.Have a good plan. Can you imagine a kind of work that will reach the success without a good plan? I know, you can't. Before getting ready for a trade show, you need to have a smart trade show plan. If you are confused at first, start making your plan by asking yourself at least these questions.
Why do I participate to this show?
What is my budget?
What kind of a booth should I have that will perfectly fit to my business?
Which of my products or services should I put forward at the show?
What can I gain from exhibiting at this trade show?
How many people do I target to reach? Do I know anything about turning my leads into sales?
2.Be at the right place. If you really want to succeed at a trade show, first you need to make sure that you are at the right place. Before deciding upon a trade show, it's more than wise to know enough about the audience and the field of the show. Or, take a look at this post to expand your knowledge on how to choose to ideal trade show for your business.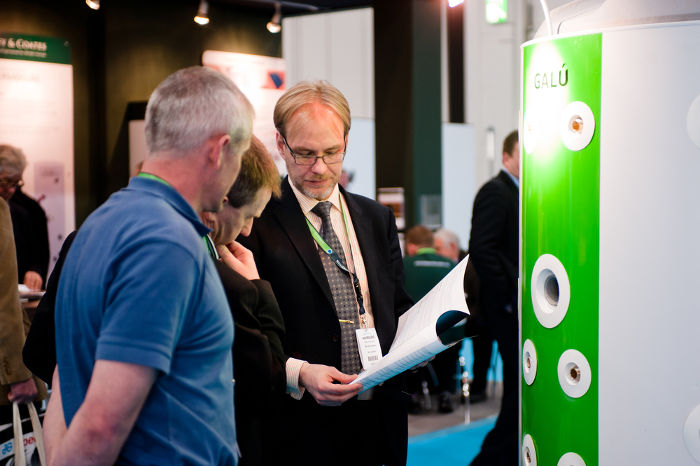 3.Spread the word.
If you're participating a trade show, make the necessary announcements about your attendance and reach as many customers as you can before the show. Almost all trade shows publish a registered participants list on their websites with their contact information. You can send them a notice mentioning that you'll be there providing them your booth number and short summary of your products or services you'll be presenting at the show.
4.Shine with your booth.
A booth is your shop window at a trade show. And it's no brainer that an interesting booth is a must for trade show success. Why should the potential customers stop by your booth? Give them something interesting. Make sure your logo and company name is quite visible on your booth. The last but not the least, create an interactive experience at your booth for your customers that will make them engaged with your booth and spend even more time.
5.Train your staff.
To reach the success at trade shows, your staff has to be trained for trade shows. Even if it may seem to be a bit odd to you, it is actually a must because marketing at trade show is like nothing else. You need a staff who will work best to help you achieve your trade show targets. They need to be expert at communicating with different types of people, have marketing skills and of course, they should be more informed about your product range. Here's more information about managing and motivating your trade show staff.
6.Benefit from technology.
You may not be into technology but following only the time-honored business principles will not make you go beyond your competitors. From the display to promotion processes, technology is integrated everywhere so you'll need to keep up with it. Being visible and easily reachable on social media, going live during the show, using the trade show's mobile app to keep yourself updated with the show or offering your visitors interactive online experiences to arouse their interest will help you shine at the show!
7.Create a soothing atmosphere.
You know well about the hustle and bustle of trade shows and how hard it is both for exhibitors and customers to even communicate. So at least in your own booth, why not create a soothing atmosphere with smart lighting, plain yet interesting decoration and with a relaxing music? The visitors will see your booth as a shelter and will likely spend more time at your booth which means you'll have greater opportunities to introduce your products or services to them, turning more of your visitors into potential customers.