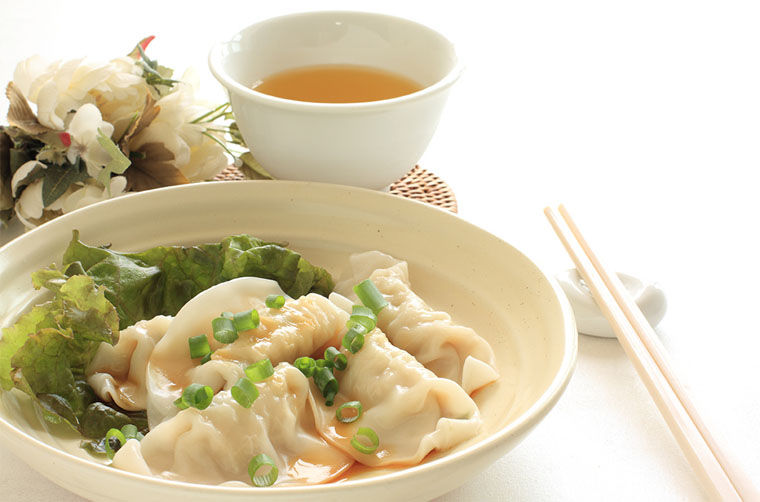 Jiaozi
While you are in Beijing, there is one more taste that you should try before Peking Duck: Jiaozi. It is a kind of dumpling that is unique to China and it is filled with minced meat or vegetable.
Jiaozi, unlike Wonton (another Chinese dish) is accompanied by soy-vinegar or hot chili sauce. It can be boiled, steamed, or fried at your taste. Fillings may change from recipe to recipe but the most popular fillings are cabbage, napa, onions, celery or garlic. If you get on well with meat, then you can try pork, beef, chicken, fish and even shrimp fillings.
Known as the Chinese ravioli, Jiaozi is a familiar taste for almost everyone from all over the world and will make a perfect meal in its own right.
Peking Duck
Undoubtedly the most popular dish in Bejing is world-renowned Peking Duck. Since the imperial era, Peking Duck has been served in ceremonies or festivals. The ducks are bred in a special area and since they don't move much, their meat is not tough and this is what Peking duck special.
The skin of the duck is dipped in garlic and sugar before cooking. The dish is served with pancakes that are filled with cucumber, scallion and sweet bean sauce. Or, you wrap the pancakes around the meat and eat by hand.
To taste the perfect variations of Peking Duck, you can pay a visit to Bianyifang and Quanjude. These two restaurants are centuries old and have their own cooking styles.
Sachima
Sachima or Shaqima is a popular pastry that can be found throughout the country. However, each region has its own variation. Sachima is fried dough strands that are bound together with sugar syrup and then cut into pieces.
If you are into desserts, Sachima can be your favorite taste while you are in Beijing. You can find this soft yet chewy snack in many restaurant and in supermarkets. The recipes may vary and they can contain sesame, egg or granulated sugar. But the most common recipe contains only butter, flour and sugar and yes, it can be bad for your heart. However, if you wish to have a complete Chinese experience, never leave Beijing without tasting Sachima at least once.