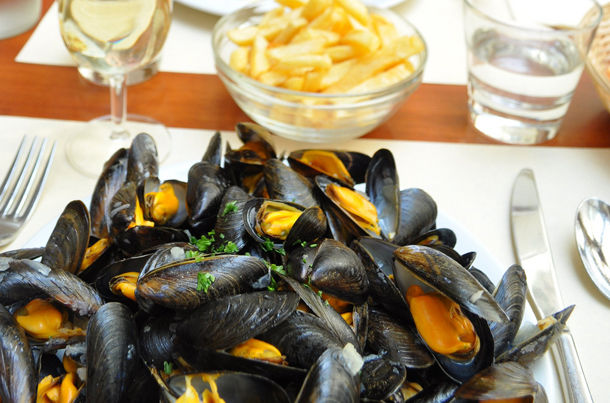 Assuming that making you taste the best food of any city in the world is my prior mission, I think I need to talk about the mussels in Brussels this time. You have probably heard about famous "the mussels in Brussels" for it's almost considered as the national dish of Belgium. However, this is such an incredible taste that no eulogy will be enough.
Mussels generally come from the North Sea and they are cooked in many different ways depending on the regions. You can try "a la marinere", the method in which the mussels are cooked with white wine or "a la crème" or with vegetables, cheese, onion, pesto or tomato. If you don't like any of them, go for the mussels, beer and French fries, for example. It will definitely be your taste. No matter which way of serving you pick, the portions are surprisingly big and to be honest, this is the best part of this mussel thing for me.
If you are planning to go to Brussels and if you have made your decision to eat mussels there, I'm willing to give you some addresses for the best mussels. You can take notes for your advantage.
Chez Léon
Chez Léon is probably the most famous one in Brussels and it is located near Grand Place. This 121 year-old restaurant promises you a rich and perfect menu with a great service. Plus, you will have the chance to taste the beer Léon that is unique to Chez Léon in its large, round, special glass.
Le Bonne Humeur
Another great address for mussels and French fries is Le Bonne Humeur that boasts of not having been changed since 1954. The menu is rich, atmosphere is captivating and the portions are big. Remember that Le Bonne Humeur is closed on Monday and Tuesday because I'm sure you don't want to be disappointed when you get there.
Scheltema
Scheltema's seafood specialties make it one of the most reputable restaurants in Brussels. Its central location near the Grand Place is also advantageous because you can drop by for a lunch or dinner during your sightseeing tour! Just don't attempt to go there on Sundays in order not to meet with closed doors.
Now you have the best 3 address for mussels in Brussels. Well, what if going to Brussels is not something that you have planned to in the near future, but you are craving to try it, anyway? You are also on my mind, too! Here's one of the best mussel recipes that you can try at home. Bon appétit!
Mussels in White Wine and Garlic Sauce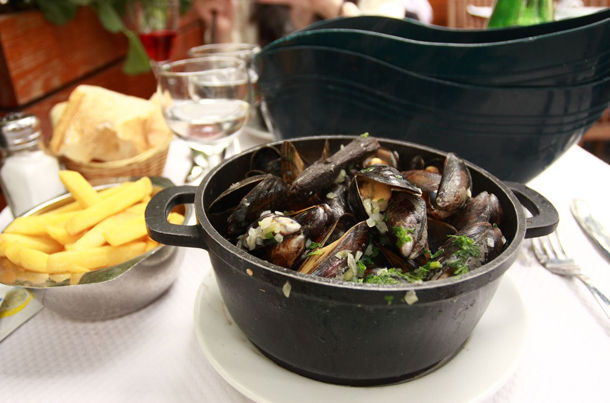 Image Credit: rc!
Serves 4
Ingredients:
2 kg mussels, live
50 cl dry white wine
4 onions
4 garlic cloves
½ teaspoon salt
A cup of fresh herbs (parsley, basil, rosemary or mint depending on your taste)
6 tablespoon of butter
Preparation:
Start with scrubbing the mussels under cold water and discard the strings of the shells with a knife or with your fingers. In a large pot mix the wine, onions and garlic and add salt. Leave it to simmer for 5 minutes over medium heat. Then add the mussels and cover the pot. Increase the heat and cook the mussels for 5 minutes until they are all open. Now it's time to add the herbs and the butter. Remove from the heat and serve! If you try it and like the taste, let me know in the comments!
Main Image Credit: Frédérique Voisin-Demery