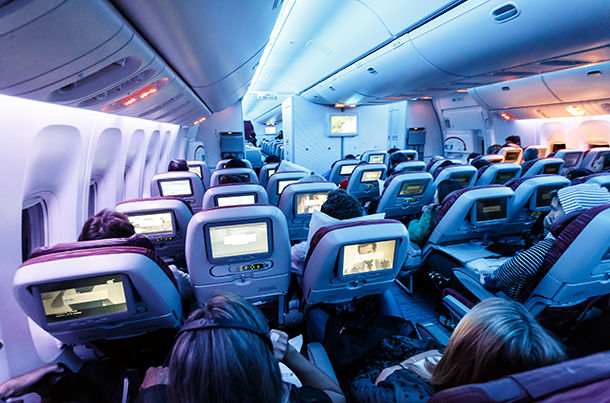 No matter how frequent we fly and how accustomed we are to travel between time zones, the long haul flights, leave the effects aside, are still one of the most problematic parts of a journey. Especially if we are to attend an important business meeting, a congress, conference or a symposium just after the day of the flight.
These long haul flights can be defined as problematic for more than one reason; you may not be natural born "I can sleep anywhere, anytime" person and no matter how many movies you watch, how many chapters of your book you read or how many times you listen to your favorite album, you may not be able to fall into sleep. In addition, I am sure you have seated on more comfortable seats than the ones on the airplane.
The reasons why these long haul flights are not so easy to cope with may never come to an end actually.
Rather than telling you why you don't feel that comfortable during these +10 flights (because you already have your own reasons), having a look at the ways to reduce the discomfort or some precautions you may take during the long haul flights might be a better way to offer you some suggestions on the topic.
There are two types of things you might find useful to do in order to diminish the effects of a long haul flight. The ones you can do pre-boarding and the ones you can try while flying.
Here we go.
Pre Boarding
Choose the right seat
This is probably the most important step to ensure your flight is going to be more pleasant than the last long haul one.
The term "right seat" is open to comment since everyone's specifications may change. For example, I am a window seat person since it is impossible for me to fall asleep without leaning my head to somewhere. However some may prefer the aisle seats because of the considerably larger leg space.
In any case, make sure you check in online and choose your seat in advance to your flight. If you are going to sit in the middle of two people you don't know, none of the other tips for long haul flights I am going to suggest here may be enough to save you.
Ask for an upgrade
If you couldn't make it to the business class, ask for it while you are at the airport. There are times when airlines offer the empty seats in business class part if they are available. If you feel like not doing it because you find it embarrassing, think about the long flight you are about to take once again. In addition, what can go wrong with asking anyways?
Bring your comfort kit yourself
If you are going to fly more than 6 hours, you are probably going to be offered a comfort kit on board. These usually include ear plugs, eye pads, lipsticks and warm socks. If you think you'll need more than these for a comfortable time on the plane, don't forget to bring them on board.
I have just heard that a friend of mine uses beach ball as pillows on the plane and quite happy with it. Since you can inflate it as much as you need and put them into any shape without hassle, I think it definitely is worth a try.
Bring your own pastime activities
These include the books and magazines you are going to read, the music you'd like to listen and the movies you'd like to watch. Being tech friendly works a lot this time since you can easily store all of these on the same device nowadays. If you don't, your choices will be limited to what the airline offers and you may have to watch Sweet November for the millionth time.
Make sure you are dressed accordingly
This is another important step of ensuring to cope with a long haul flight. The cabin pressure will eventually affect your blood circulation and you don't want to maximize the effects by choosing tight clothes, do you? Or you cannot risk feeling cold during the whole flight. I am not suggesting you go with sweatshirts or sweatpants but flying 10+ hours with a suit or cigarette skirt might not be the best choice.
Check if the food that'll be served on board is okay for you
The food that'll be served on board will probably be something not too distinctive; a food that is okay and mostly enjoyed by everyone. However, there is always the risk that it may include you don't like, eat or be allergic to. Checking with the airline about the food and be prepared for it will save you from starving on board. You can always bring some snacks you like on board and don't have to starve while waiting for it.
During the flight
Move around and be comfortable
As aforementioned, the cabin pressure is going to affect you blood circulation. Moving around and stretching helps your body to minimize the effects. Don't feel lazy to do so. Regulated blood pressure is going to affect your quality of sleep, too.
Usually your feet and hands are the places that will be imposed by the change in the blood circulation first. Taking your shoes off, wearing another will socks or slippers would help you feel more comfortable.
Protect yourself from the dryness
The cabin pressure is also going to affect the humidity of the air inside the cabin. You may not see the visible effects of this like you have witnessed your feet going a size larger because of the cabin pressure. However you might want to be careful about dehydration and its possible outcomes which will eventually affect the comfort of your flight.
You must drink water. A lot of water.
You may want to keep eye drills because your eyes may feel irritated because of the air inside.
A chap stick or a lip balm will save you ending up with the cracked lips after the flight.
If you are sensitive, it may be hard to breathe the dry air, so you may want to have some nasal drips or sprays, too.
Stay away from alcohol
Booze may seem to be a great idea to cope with a long flight at first. Feeling a little dizzy and falling into sleep later on is the ideal however this almost never happens. The real picture if you decide to with alcohol on board is going to include a dehydrated you who is affected more than usual by the alcohol because of the cabin pressure and the blood circulation. The last thing you need is a hangover after a long-haul flight, don't get the risk.
Find a way to get some sleep
You should get some sleep during a long-haul flight. How to manage that depends on your personal choices. There are people who stay awake prior to the flight in order to get the most sleep while flying and there are people who pop up some sleeping pills while boarding. If you are going to try the second method, make sure you have consulted you doctor in advance to learn which one to take and how much to take it.
However, my recommendation would be putting your trust in nature. A cup of camomile tea is going to make feel sleepy without taking a pill. Staying away from caffeine and making sure you are hydrated may also work while trying to get some sleep. In addition, bringing your own earphones and accompanying music that'll help you relax and sleep may also work.
Main Image Credit: klausbalzano