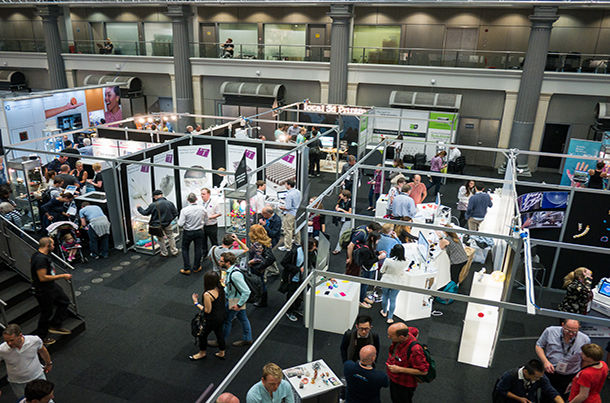 Getting ready for a trade show or fair always includes a large number of things to be considered in advance. You have to make sure you are attending the correct trade show that will meet your expectations, for example. The way you present your content at your booth must be up to date, which means you have to know the ways to integrate technology during your presence at a trade show. We can also talk about the necessity of a good quality staff to represent your service or your company during this very opportunity to get in touch with the preferable audience.
All these and a bunch of more has to be taken into consideration while you are preparing for your next event that must be successful and turn into a chance to prosper in the sector or the market your business functions in.
However, there is also one more thing which is usually underestimated by the fair and trade show exhibitors.
It is the location of your booth.
It is actually one of the most important things that affects your trade show or fair success; because no matter how much work and energy you put in getting a great staff together to represent you or trying to create the perfect display, if your location at a fair or a trade show is considered "inaccessible", you unfortunately don't stand much a chance to gather crowds to your place.
But wait, you are not hopeless. There some things you can do to guarantee a great spot in the massive venue. The good news is; when your perfect preparation comes together with a great location during a trade show or a fair; your success becomes pretty much unavoidable!
The entrance is not your friend; but anywhere near is!
At first, having a booth at the entrance may seem as a bright idea; because anyone who visits the trade show or fair will eventually cross across it. However, in practice, this may bring drawbacks rather than benefits. First, the entrance is almost always crowded and your visitors may not find it comfortable to stand at your booth to get information about your product or service. In addition, people usually want to consider the other options before they make their mind up to purchase a service or a product; and this means you just have to be perfect to make them come back to where they have started.
However, having a spot near the entrance may be a better idea. The visitors will have the chance to relax after trying to get into the venue (and ignoring the booths standing there), and will be ready to discover the show. And if your booth is somewhere near the entrance, you can get the chance to be one of the first businesses they see, talk to and get to know.
It is time to use your prior trade show knowledge
Attending trade shows and fairs gives you the opportunity to get in touch with your prospect customers and keep up with the happenings in the sector; that is the usual and the expected benefits of attending one. However, as the number of trade shows and fairs you attend increases, you become more experienced on deciding what sells, what people wants, what to do and what not to do.
Therefore it is crucial to make observations and comparisons; for example which company attracted the most number of visitors last year and where was their booth located at the venue? What sort of giveaways they offered? Or, think vice versa; which were the companies who were unlucky on getting people's attention? What did they lack? And can having what they have been missing and choosing your booth's location right next to them boost your visitor number? We believe it can!
Don't be too close to your competitor
Yes, competition is good but that doesn't necessarily mean it has to be side by side. If the trade show or fair you are going to attend is a small scale one, you may not have so many options. However you have to do your best because visitors will have the idea that two companies serving the same product or give the same service may differ only a little; and if your competitor will be the first they visit, your chance of getting a visit and impress them may decrease.
If you and your competitor have some space in between, this will give the visitor the chance to focus on a different service and product in the meantime and be ready to be showered by your content in your booth.
Using the last years' experience on this one is also crucial. Analyze the content of your competitor's display and what they offered. Make sure your displays state the difference and advantages when compared to your competitor, so that the visitors will be willing to get to know your business, too.
Left or Right?
This is one of the most underestimated points when a booth location is chosen during a trade show or a fair. The logic here is simple; the countries drive on the left have the tendency to walk on the right side of aisle. On the other hand, it is known that the people who drive on right in their countries usually walk on the left. As a result, knowing the driving pattern of the country you are going to attend a trade show or a fair in will give you the clue on which part of the isle you should locate your booth during a trade show.
Other Useful Tips
These four mentioned above are the main things to be considered while deciding your booth's place at a trade show or fair. However there are also other things you may take into account while choosing the perfect spot for the visitor flow.
A place near the restrooms may not be seem like the perfect spot in so many occasions however it is one of the bests ever when it comes to fairs and trade shows for example. It will always be crowded; must of the visitors will come to restrooms and some of them will have to wait in front of them. If your booth has got interesting content, they won't mind listening to you while you are explaining what you have to offer.
In addition to the restrooms, the spaces around the food and coffee decks are also advantageous when compared to the other places in the venue. People will walk, they will get hungry and at the end they will end up in the queues to grab a bite or need a fresh cup of coffee. Why don't you get the chance to turn this into an opportunity?
Moreover, the places near the stages where big promotions and shows will happen are also advantageous. There is no chance for these spots for not to be invaded by the visitors and you may as well take the chance to steal some of the crowd to your booth.
Main Image Credit: brainfloat