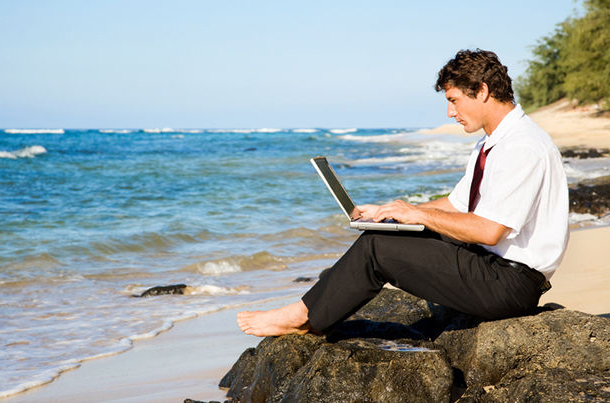 Business trips usually sound exciting and considered as a "paid vacation" by those who don't go on business trips as their jobs don't require any meetings abroad. When people who must keep a ready to go bag in the bottom of their closet however, must be thinking the other way. No matter how fancy it sounds, spending hours at the airport, flying long haul and trying to do your best during the meeting with all the fatigue from the journey may not be as enjoyable as one might consider it to be. In addition, people who go on business trips rarely have time even for buying some souvenirs for their beloved ones.
However, the term "bizcation", also referred as "bleisure", is here to vanish this away. The word which is blended from business and vacation stands for a business trip that is extended for a couple of days just for leisure. It was a trend among the business travelers in the year of 2014 and it seems that it will get even more popular as travelers are introduced to smart and budget friendly ways to turn their business trip into a bizcation.
No matter if you are on your way to attend an academic congress or conference or you will attend a trade fair on behalf of your company, with some smart steps, it is not hard for you take some time off for yourself and turn back to your office relaxed rather than exhausted because of all the meetings and traveling.
Doesn't this sound nice? If you are a road warrior to catch up with the latest happenings in your business or attend important meetings that leave you drained, why don't you have a look at these smart tips on how to turn your business trip into a bizcation?
Keep an eye on your schedule
The first step to add some spice to your business trip by sparing some time for yourself is to make sure you have enough time. Check the dates you are going to be on business trip. If the meetings end on a Thursday or Friday then you can consider yourself to be luck since it will be easier to ask these days off and combine them with the weekend. The same thing may apply if your meeting is going to start on Monday; you can take Friday off and fly your destination in advance, make some exploration, taste the local dishes and rest for your busy days to come.
Of course, if you want to take some days off for bizcation, then you must have some. Keeping a couple of days from your annual leave aside may come to your help at this point.
Usually business trips are planned at least 1.5 month earlier from the exact travel date. This also gives you an opportunity to have a look at your schedule, your off days and have a look at the other destinations to explore and buy the necessary tickets for a relatively cheaper price.
Have some time for bleisure, but where?
One of the most important step you must consider prior bizcation is your route. Are you going to explore the city you are going to travel? Or do you intend to travel to a nearby city? Or maybe even a different country? Making your mind up when you are there may cost you a lot more so you better have a look at you options and choose one when you have enough time to organize the travel. If you are going to Paris for your meeting but you have already been there, Amsterdam may be a great destination to discover since these two cities offer direct trains to travelers a couple of times throughout the day. Or, if you are on your way to Malmö, the Swedish city, why wouldn't you hop on the next train to Copenhagen and discover what Denmark has got to offer? Your choices are limitless when it comes to traveling but you have to plan where to go in advance.
Your vacation, your money
Your company is going to pay for your travel expenses; your flight ticket and your accommodation, as well with your transfers needed in the city. For example, if you are flying from NYC to Stockholm and want to spend a couple of days in Tallinn, where you will probably go by a boat, you may ask for your return ticket to be from Tallinn. However, you cannot expect the extended days' accommodation or transportation tickets to be paid by your company. Make sure you clearly state the extra costs are on you and you are paying for your bizcation.
Let your colleagues know about your bizcation
This is important for many reasons. First, your tasks will probably be shared by your collogues when you are on your business trip and your extending your trip means they are going to keep an eye on your duties for more couple of days. Second, there occurs a situation that must be handled by you, then they may direct the tasks to you, put them in the wait list or let the people you should be talking to you know about your absence.
Choose your accommodation wisely
If you are going to stay in the city you visited for the purpose of business, you may need to change your hotel. Most probably the accommodation your company will offer will be close to the event venue or the expo center you are going to spend the next couple of days in. If you want to be closer to the center of the city, you may want to book a different hotel that will meet your leisure needs. It is also common among the business travelers to be accompanied by their spouses during their bizcation and without doubt there will be some great accommodation options for a romantic getaway in the city you are going to visit. Keep in mind that you'll get the best rates from your desired hotel 2-3 days prior to your stay.