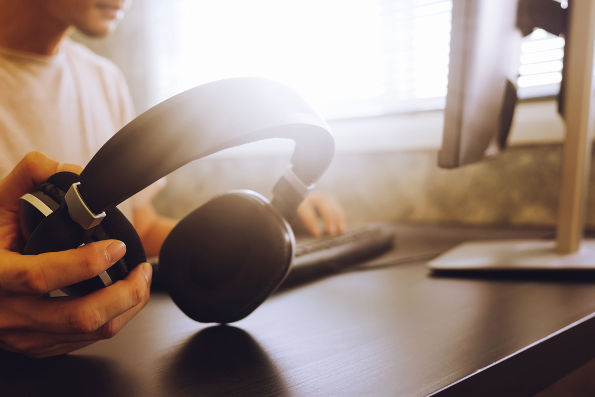 If you are a frequent business traveler and have to travel all around the world in a busy schedule, you know how tiring a flight may be especially it takes more than 5 hours, very well. The annoying situations while on board are just limitless. You try to sleep but that constant irritating engine sound or a crying baby keeps you awake all the time. And you know those old earplugs don't really help. You try to watch a movie or listen to some music but a passenger announcement interferes or your headphones can't manage to stop outside voices. However, there's a relief! Noise-cancelling headphones are definitely designed for you. They block out all kind of distracting noises in the background and make you feel all alone in the room. Grab one and enjoy your next flight with pure sound of your music or the sound of silence!
Bose Quite Comfort
Bose Quite Comfort is one of the best popular headphones in this market and offers you two different options. Bose defines the Quite Comfort 35 as their headphones ever. It's wireless and offers you a great comfort using the Bluetooth connection. It can pair automatically with your Bluetooth devices (such as your laptop, tablet and mobile phone) and guarantees up to 20 hours of battery life! If you aren't interested in going wireless, try Quite Comfort 25, which has a lower price. The name Bose speaks for itself as an incontestable giant in audio equipment industry so you can go for a Quite Comfort without any hesitation.
Beats Studio Wireless
Another iconic brand in audio equipment industry, Beats claims its Studio Wireless headphones puts the world on mute! It has the Adaptive Noise Canceling (ANC) feature that lets you forget all about the outside world and concentrate on the music. Additionally, you can use the headphones only to cancel the external noise such as crying babies or that annoying engine sound. Beats Studio Wireless also has a stylish design and attractive color options.
Sennheiser PXC 550 Wireless
Audio industry's trend setter, Sennheiser's signature product PXC 550 Wireless promises a complete isolation thanks to its NoiseGard™ hybrid adaptive noise cancellation feature. The battery life is up to 30 hours which is quite awesome and its foldable design makes things easier for the travelers. If you don't want to sacrifice sound quality at any volume, Sennheiser PXC 550 Wireless would be a suitable option for you. The earcup touch panels and its app enabled software CapTune come as a plus!
Sennheiser MM 450-X Travel
Another Sennheiser product that you can also go for is MM 450-X Travel which is specially designed for frequent travelers. You can use it either wireless or wired and offers you an amazing sound quality both for your music and your calls. It features NoiseGard 2.0 which is Sennheiser's advanced active noise cancellation and when its TalkThrough function is activated by just pressing a button, it makes you hear what's going on around you so it lets you talk to someone without removing your headphones.
Sony MDR-1000X
A classic in audio equipment industry, Sony's remarkable product MDR-1000X proves itself in noise-cancelling sector. Regarded as Bose Quite Comfort 35's competitor, Sony MDR-1000X shines out with its LDAC feature. Comparing to conventional Bluetooth® Audio, thanks to LDAC, MDR-1000X can transmit nearly three times more data which offers you a greater sound quality.
PSB M4U 2
PSB M4U 2 grabs attention with its exclusive Room Feel™ technology that will let your music sound more natural and rich. The Active Noise Cancelling feature puts a strong barrier between your music and the background noise. Additionally, it features 3 modes which are Passive, Active and Active Noise Cancellation modes. In Active or ANC modes, you can listen to your music up to 55 hours. When your battery dies, just switch to Passive Mode and keep the beat! Its foldable design makes things easier for travelers but if you are looking for wireless headphones, PSB M4U 2 probably won't appeal to you, then.
Sony H.ear On Wireless NC
If you like colors and don't like the boring designs of most noise canceling wireless headphones, this one is absolutely for you. Sony H.ear On Wireless NC comes in six vibrant colors that will complete your iconic style. It has Digital Noise Cancellation feature that blocks out the background noise to make you concentrate full on your music. Just like MDR-1000X LDAC feature comes as a plus in this headphones.