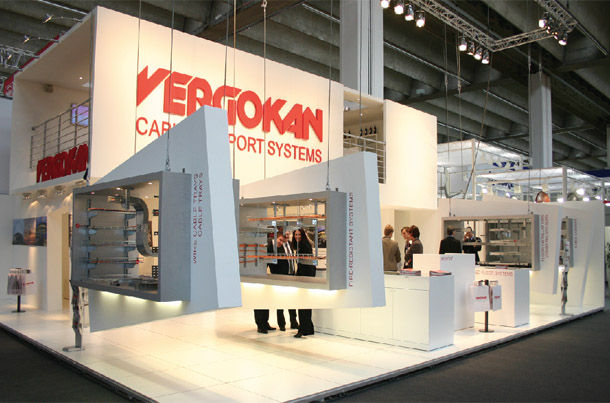 For business people, fairs and trade shows are undoubtedly the perfect platforms to network, introduce their companies to both national and international customers and strengthen their place in the sector. As well as the communication and marketing skills, there is one more important thing that will make a company stand out from the others: The booth. An effective and professional booth can make a brand more visible while an ordinary one can just be passed by. If it is your aim to attract more people with your booth and if you wish that you're exhibiting process really worth the effort that you made, you need to take your booth more seriously.
I interviewed with Alberto Sanz, the founder and CEO of nEventum, which is one of the leading companies in business events sector and he told me some important facts about booth designing basing on their experience as nStands. If you are a first time exhibitor or if you are intended to have a more attractive booth next time, I believe this interview will light your way.
Q: What kind of information do you need to learn about a company before you start to create a booth design for them?
A: Here in nStands we are a stands budget comparator and we manage over 1,500 stands monthly. We work with more than 8,500 exhibition Stand Builders worldwide and the essential info without which we cannot begin to work on a stand is:
- The stand space (on sqm or sq ft)
- The trade show name
- The available budget
The available budget will determine the materials and the design options, sharing the budget with the company that will design your booth is the best way to save money and time.
The next essential information is the trade show name, not just to know the city and dates, but also to investigate if there are any specific regulations for the construction of the stands.
Some other info we like to know to design a stand are the aims that the company got for that fair. Because it is not the same to reinforce the brand image than get new clients. The aims will determine how to distribute the space, making necessary meeting or recreation rooms.
Another factor is what your competitors are going to do on this fair. It makes no sense that on a trade show where all the stands are modular you have a design stand and vice versa.
Q: Based on your experience, what is the most attractive booth design? What are the musts?
A: The most attractive stand is the one that helps the expositor to reach his goals. A stand that is remembered because of the design but not for the products that are exhibited or don't attract people it is a great presentation for the stands builder but a waste of time for the exhibitor.
Q: Is an attractive booth always expensive?
A: A good stands designer and builder value their work and is not usually the cheapest, but this is not about how cheap it is, this is about how profitable is. And that not only has to do with how much the stand costs but how close and easy it makes you reach your aims at the fair.
Spending 10,000€ on a stand that doesn't really invite you to join in is more expensive than spending 12,000€ in one that attracts the public attention and invites them to experience your products.
The beauty of a stand is not directly related with the budget but with the quality of the designer. We work with more than 8,500 stands builders worldwide and recently we devoted a special post to what we called little gems of exhibition architecture where we made a stands selection about less than 25m2 that powerfully attracted the public attention.
Q: Does every exhibition have its own standards? Can each booth be used in any kind of exhibition?
A: Sometimes the stands are reusable, but not always. Each trade show has its own rules. For example Bread and Butter in Berlin, the great European fashion fair, limits the height of the stand walls to 1.5 meters while in Mobile World Congress the stands can reach 5 meters height.
The rules are not only made by the fair organizers, but sometimes there are also venue limitations.
Q: What are the pros and cons of the booths for rent and the ones for sale?
A: The stands for sale have a cost 4 times higher than a rental stand so it is profitable if you have to use it at least on 3 or 4 more fairs.
Buying a stand is a great option for those companies that organize their own events and control perfectly the exhibition space, but if you want to use it on different venues you may run into trouble.
However, the purchasing stands systems have improved and nowadays are modular and can be combined to create designs of 24m2, 12m2 or 6m2 which gives you total versatility.
Q: Lastly, what is the perfect time period for the companies to contact you if they need a proper booth?
A: Well, time is money so if you keep in touch with the suppliers at least 3 months in advance you warrant that all, even the best, can find time on their production.
If you leave the hiring of your stand for 45 or less days before the fair, you will find out that some of the best companies won't be available because they are already committed for this event.
Finally, if you start looking for a stand with just 2 weeks anything can happen and none of them are good!