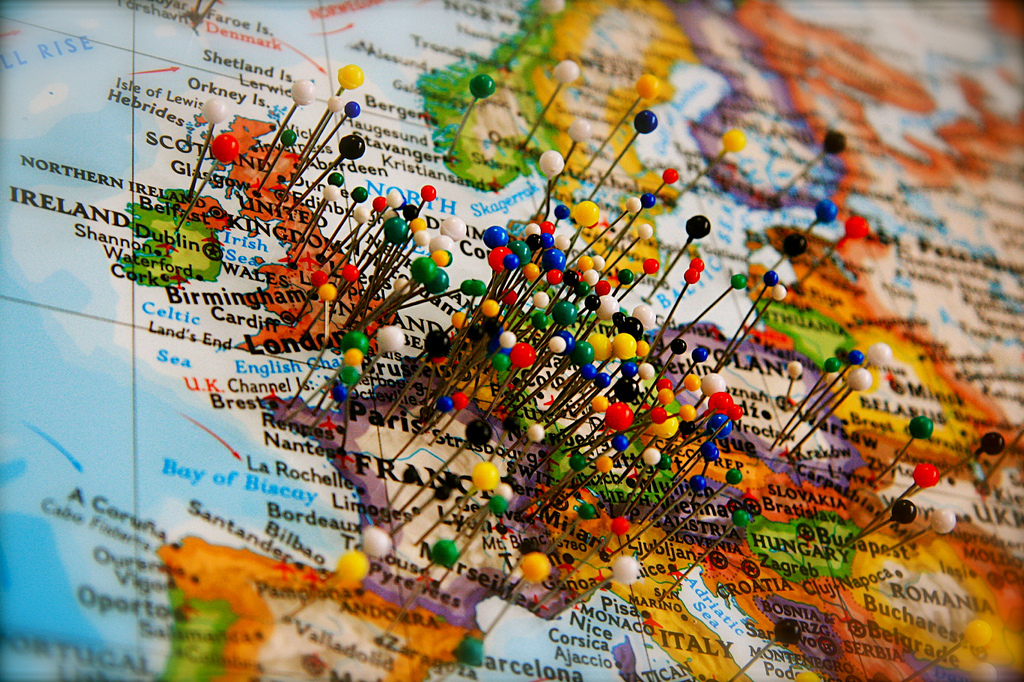 Don't you sometimes feel that the world is too big to discover if you just sit and think about travelling it all around? However, it becomes smaller when you get up and start to do so. Well, we may think some of us may not be that lucky to travel all around the world as we may be short of time or money. Still, some of us are just brave to create their own luck to get the most of this life. There's only one lifetime that you can use to explore this beautiful world. Don't waste it and discover the best travel blogs that will stimulate you. You'll see the best photos, read the best articles and get to know the world better. Here are the best 29 travel blogs that we advise. Enjoy.
1. Adventurous Kate
Website: http://www.adventurouskate.com/
Twitter @adventurouskate
The blog's owner Kate McCulley is one of the bravest people that I mentioned above. She quit her job to travel the world and is seeking for another adventure in any corner of the world. Discover the world through her eyes. You'll definitely be amazed.
2. Alex in Wanderland
Website: http://www.alexinwanderland.com/
Twitter: @WanderlandAlex
Have you watched 'We Bought a Zoo' by Cameron Crowe? There was a line in that movie that caught my attention right away; 'You know, sometimes all you need is 20 seconds of insane courage.' This is what I remembered right away when I read the about me part on Alex's blog. Buying a one way ticket from New York and celebrating your 3rd year of traveling? Oh God. Cannot help admiring. Check her blog out if you are after some neat travel writings.
3. Never Ending Footsteps
Website: http://www.neverendingfootsteps.com/
Twitter: @NEFootsteps
Lauren Juliff is kind of a person who creates her own luck. When you read about her, you can't help admiring her travel ambition. Thank God she chose this job that we can read both great stories and perfect travel guides. Hope her footsteps will never end.
4. Going Anyway
Website: http://www.goinganyway.net/
Going Anyway is one of the blogs that will restore your faith in humanity and fill you with joy of life. This Australian family shows many different things at the same time. One of them is impossible's being nothing if you have the desire, courage and the love with you all the time. Chris and Jill are travelling with their five children, one of who has Cerebral Palsy and uses a wheelchair. Their adventures and journeys are amazing, just like themselves. My favorite family of all time award goes to them, every single time!
5. GQ Trippin
Website: http://gqtrippin.com/
Twitter: @GQtrippin
G for Gerard and Q for Kieu. This cute couple travel together and share their experiences generously. By following their blog, you will also get helpful tips for the cities that you're planning to go apart from having a great time!
6. Lee Abbamonte
Website: http://www.leeabbamonte.com/
Twitter: @LeeAbbamonte
How many countries have you visited so far? 5, 20, 54? Well well, let me introduce you Lee Abbamonte, the youngest American to have visited ALL the countries in the world. You read that right, he has been to 312 countries around the world. What we are to get from his unique adventure are the amazing blog posts that he tells neatly about his destinations. Not giving any spoilers, you are more than welcomed to his blog.
7. Never Ending Voyage
Website: http://www.neverendingvoyage.com/
Twitter: @NevEndingVoyage
Erin and Simon are the protagonists of "Never Ending Voyage" who sold everything they own to pursue their travelling dream. They think it is worth "because life is short and the world is large" in their own words. I again hope that their voyage will never end!
8. 48 Hour Adventure
Website: http://www.48houradventure.com/
Twitter: @48houradventure
This is definitely one of my favorite blogs ever simply because the traveler Justin proves me wrong every time I come up with excuses of not having enough time to travel. What he does is amazing, he travels only on weekends for 48 hours and goes back to work on Mondays. This is the definition of awesomeness to me.
9. Further Bound
Website: http://furtherbound.com/
Twitter: @furtherbound
Another chance creator Hannah is the owner of this blog and offers you much as a versatile person. There are so many things to learn from her and also excellent photos await you on her blog.
10. The Well-Travelled Post Card
Website: http://thewell-travelledpostcard.com/
Twitter: @VStuartTaylor
Sometimes all you need is a chance to discover your passion for travelling and turn your passion into a life style. A Londoner, Virginia had this chance when she had the opportunity to make a third year abroad while she was studying. Since then, she has been writing about the places she's been to in an aim to inspire people to travel. Well, you do that Virginia, yes you do!
11. Wandering Earl
Website: http://www.wanderingearl.com/
Twitter: @WanderingEarl
Earl wanders to "show you that long- term travel is not a crazy fantasy, but a very real lifestyle option instead" in his own words. For smart and proven advices about any corner of the world follow his blog and enrich yourself with his adventures.
12. My View from Middle Seat
Website: http://myviewfromthemiddleseat.com/
Twitter: @MiddleSeatView
Christina is a traveler who trusts on her camera and her talent at photo taking. Plus, she is really good at cruising and blogging about cruises and this is the reason why we cannot get rid of the envy that surround us while reading her blog.
13. My Time Capsule
Website: http://www.debbzie.com/
Twitter: @twitdebbzie
If you're looking for great travelling adventures that will stimulate you, My Time Capsule is another stop that you should definitely pay a visit. Deebzie Leksono has so much to tell you about her adventures especially if you're a food addict like her!
14. Classe Touriste
Website: http://www.classetouriste.be/
Twitter: @classetouriste
Debbie Pappyn and David De Vleeschauwer are a travelling couple and their adventures will make you say 'I wish I were in their shoes' at least one time while you are going through their blog. Plus, my award for 'the best design' among all the blogs we have listed goes to theirs.
15. Flights and Frustration
Website: http://flightsandfrustration.com/
Twitter: @TheGuyWhoFlies

Flights and Frustration is another entertaining travel blog that I definitely advise. As he defines his blog, you can find "the rants, rambling and ruminations of a frequent traveler" on Flights and Frustration.
16. Quite Alone
Website: http://quitealone.com/
Twitter: @matthewteller
Matthew Teller, who welcomes you to his blog with a quotes by Freya Start that goes like, 'To awaken quite alone in a strange town is one of the pleasantest sensations in the world.' is a solo traveler as you may guess. His Middle East posts and pictures will blow your mind away and make you revise your travel plans to see if you can make it there.
17. One Road at a Time
Website: http://www.oneroadatatime.com/
Twitter: @oneroadatatime
Patti and Abi are some other ambitious traveler who share their amazing experiences while they have during exploring the world. One thing that differentiate them from most of the other bloggers is they're a bit older and this makes you admire their passion more.
18. Legal Nomads
Website: http://www.legalnomads.com/
Twitter: @legalnomads
Jodi is one of the people who left a career to follow her dream of seeing all the inches of this earth. Her blog has also got a sub-site which is called Jodi Eats, in which she especially writes about the dishes or the ingredients that are unique to the land she visits.
19. Our Big Fat Travel Adventure
Website: http://www.ourbigfattraveladventure.com
Twitter: @OBFTA
Amy and Andrew, a cute British couple share their adventures and experiences as well as the travel costs (by country), travel planning articles and nice videos.
20. Twenty-Something Travel
Website: http://twenty-somethingtravel.com/
Twitter: @20sTravel
The thing I liked the first on Stephanie's blog were the things she wrote while introducing herself. And then her motto, 'why wait to see the world?' In addition, she shows and wants the readers to understand that traveling around the world may not be the easiest thing to do but what is more important; it is not impossible or requires a full bank account or rich parents.
21. Anywhere but Home
Website: http://www.anywhere-but-home.com/
Twitter: @NomadNaomi
For the ones who want to be anywhere but home and never look back, Naomi has so much thing to tell about this fascinating world. Come and listen to her surprising adventures and feel her passion.
22. Four Jandals
Website: http://www.fourjandals.com/
Twitter: @FourJandals
We love couples but we love travelling couples more. What we love even better are the couples that blog the amazing adventures they go through in a such a good way that'll make you want to track their current place even if you are not checking something out for an upcoming journey of yours. Cole and Adela, I cannot wait to read your upcoming post!
23. Flora the Explorer
Website: http://floratheexplorer.com
Twitter: @florabaker
Flora, a traveler, a poet and a writer aims to visit every continent more than once by the time she turns 31. Follow her blog if you can reach her speed. She'll definitely be seeing another country when you read her blog post about another country.
24. Mrs. O Around the World
Website: http://mrsoaroundtheworld.com/
Twitter: @mrsoaroundworld
Mrs. O does the travelling with style. She is a good daughter who listened to her mom when she said, 'I love camping! In 5 star hotels…' If you are one of those whose favorite quote is 'Let me be surrounded by luxury, I can do without the necessities!' by Oscar Wilde, I am sure you will love Mrs. O's blog.
25. Uncornered Market
Website: http://www.uncorneredmarket.com/
Twitter: @umarket
Driven by curiosity, guided by respect Dan and Audrey measure the Earth with their feet as they explain on their blog. A really rich travel content await you on Uncornered Market. Bookmarking it will help you a lot, for sure.
26. Globetrotter Girls
Website: http://globetrottergirls.com/
Twitter: @GlbetrotterGrls
Dani and Jess, a German-American couple started their never ending travel in 2010. In their website, GlobetrotterGirls.com, they share quite a lot of things; ranging from their travel experience to useful information that can be helpful for independent travelers.
27. Bridges and Balloons
Website: http://www.bridgesandballoons.com
Twitter: @bridge_balloon
Victoria and Steve's blog will give you peace and joy both with its design and content. Glorious photos and articles that will make you smile are just "a few of my favorite things" on this blog.
28. foXnoMad
Website: http://foxnomad.com
Twitter: @foxnomad
Anil is one of the lucky ones who started all this traveling thing at an early age to keep up with his parents' life that used to be between Turkey and United States of America. He does both the traveling and blogging in an exquisite way; you will not only learn how to fix a broken battery while you are on the go but also admire the pictures he took when he was in those breath taking places of earth.
29. Travel Away
Website: http://travelaway.me
Twitter: @mirunace
Miruna collects nothing but the memories and her memories about the different cities in different countries will enrich you more than you imagine. Don't forget to check her blog regularly for your own sake.
Image Credit: Justin Li