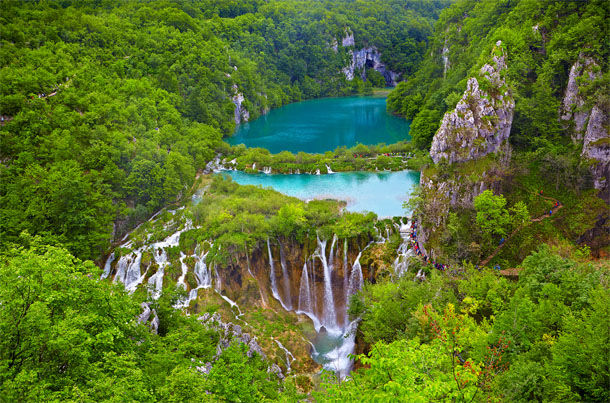 You've worked so hard last year. Providing a bright future for your family, boosting up your career, making even more money for more possessions and for a better living was weary for you.
When you had some time, you took your family with you and went for a vacation. However, the places you went were not that interesting, were they? You preferred the destinations that you are familiar with or you just headed to the nearest places possible because if you needed to turn back for a piece of work, it should have been easy to take control within the shortest time. Yes, you also travelled abroad but those were either for business or to the most popular tourist destinations. Maybe you went for a vacation because you felt obliged to.
Let's change something in this year. This time, make a cool travel plan that you will remember with a smile on your face even after 40 years. Discover somewhere hidden in this huge world, somewhere exotic or somewhere that you never knew it even existed. Today, start to make plans for your next vacation but try to make it a bit interesting. Here are quite attractive advices for you! Open your eyes and hold on tight to your chair! The places you are about to see will just blow your mind.
Plitvice Lakes, Croatia
Known as the oldest national park in Southeastern Europe, Plitvice Lakes is located at the border of Bosnia and Herzegovina in a mountainous karst area. Since 1979 Plitvice Lakes is UNESCO's World Heritage Site for it is among the first natural sites worldwide. In Plitvice Lakes National Park there are waterfalls, lakes, caves and many animals like bears, wolfs or rare birds.
Ha Long Bay, Vietnam
Ha Long Bay is a natural wonder that is composed of nearly 2000 islets and covering 1553 square meters of area. All the islets are limestone that has gone through more than 500 million years of formation. In Ha Long Bay 14 endemic floral species and 60 endemic faunal species live creating a biodiversity. Tens of thousands years ago, human beings lived in this area according to historical researches.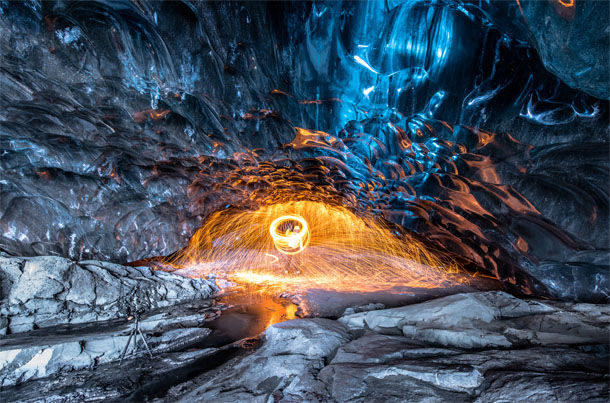 Skaftafell Ice Caves, Iceland
Another fascinating point in the world is the ice caves that are located in Skaftafell. However, you can't visit the caves all year round since the caves start to take shape only in autumns and last throughout the winter. This ice is centuries old and coming from Svínafellsjökull glacier. Because it has no air bubbles, it can absorb all the visible light. You should bear in mind that your trips to the caves temperature dependent.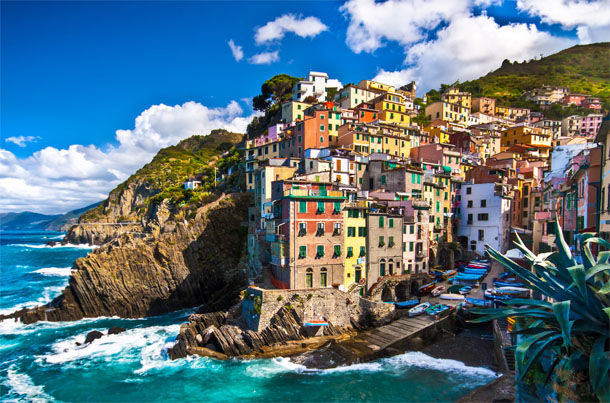 Cinque Terre, Italy
Meaning "five lands" in Italian, Cinque Terre is composed of five villages. These five villages are Monterosso al Mare, Vernazza, Corniglia, Manarola, and Riomaggiore and all of them and the surrounding area are UNESCO World Heritage Site. You cannot reach the villages by car from the outside and there are only few roads into these villages. The villages are connected by trains, boats and paths. This steep landscape up to the cliffs overlooking the sea is absolutely a must visit place!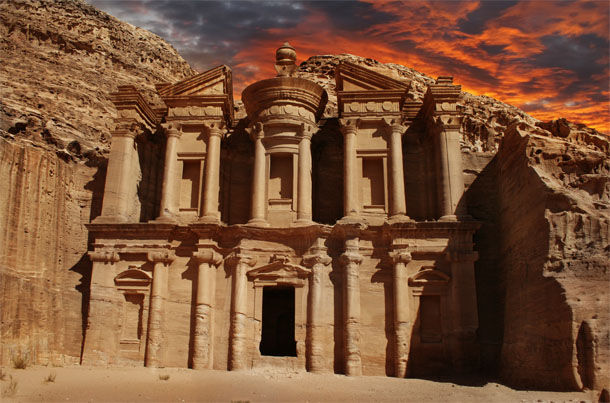 Petra, Jordan
Petra is one of those places in the world that will leave you in awe and adore the power of the humankind and the nature once more. Petra, is an archaeological city located in Ma'an Governorate, Jordan. What makes it so unique is that it was completely carved into limestone and it has a unique water conduit system. Reportedly under the Al Khazneh there is a hidden treasure and local Bedouin tribes made many bullet holes on it to dislodge this treasure.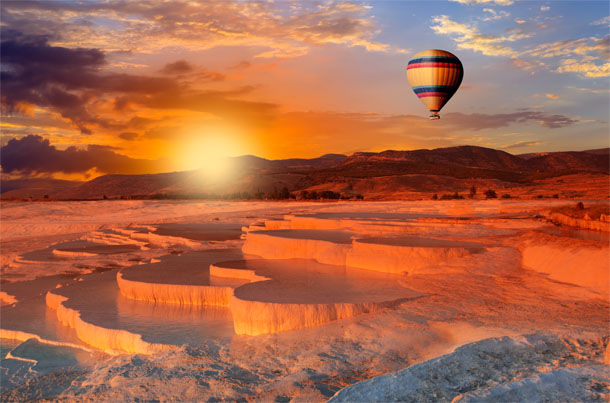 Pamukkale, Turkey
Pamukkale is another heavenly corner in the world meaning "Cotton Castle" in Turkish. When you see there, you'll easily realize that it absolutely deserves its name. The area has a mild climate during most of the year and the carbonate minerals left by the flowing water creates this cotton-like scenery. In the area there are 17 hot springs and you can bath in the travertine pools!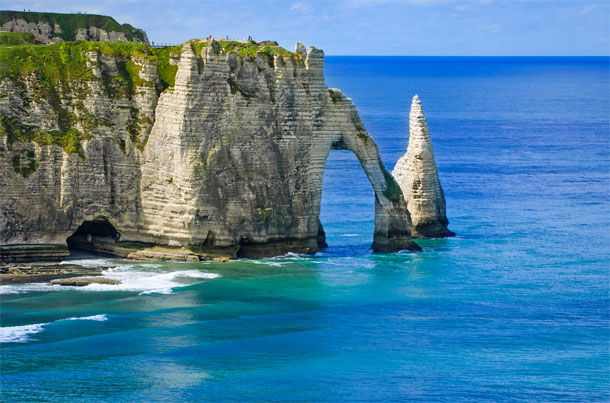 Etretat, France
Etretat is a town located on the coast of the Pays de Caux area in France but it is mostly known for its cliffs and the natural arches that stretch out in the sea. The two of the arches Porte d'Aval and the Porte d'Amon can be seen from the town. However, the third and the largest one The Manneporte is invisible from there.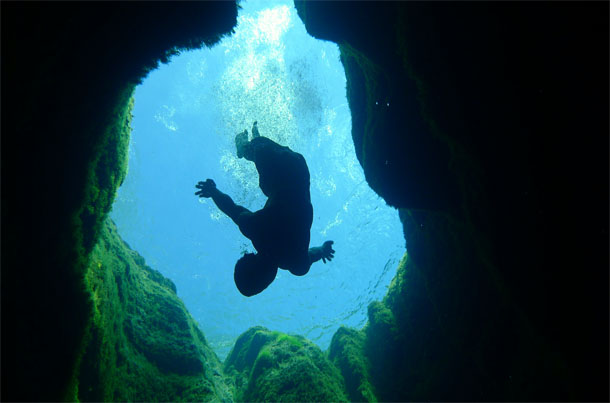 Jacob's Well, Texas, USA
Located in the Texas Hill Country, Jacob's Well is a perennial karstic spring that leave the visitors breathless. The diameter of the spring is about 4 meters and the average depth is 37 meters. Although it is too dangerous to jump into it, many people appear to enjoy this thrilling activity.
Image Credit: Patrick Lewis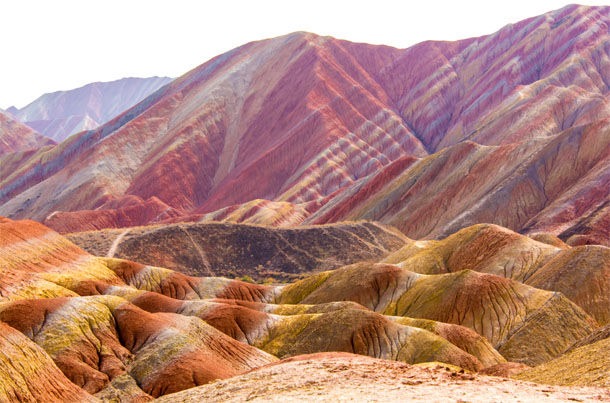 Zhangye Danxia Landform, China
This unique type of petrographic geomorphology located in China is so picturesque that it is not different from an oil painting. Danxia Landform is a rock formation of red-colored sandstones and conglomerates and it is very similar to karst topography. Covering 510 square meters of area, Zhangye Danxia Landform is popular with its unusual colors and what is more surprising is these shapes are estimated to be 24 million years old.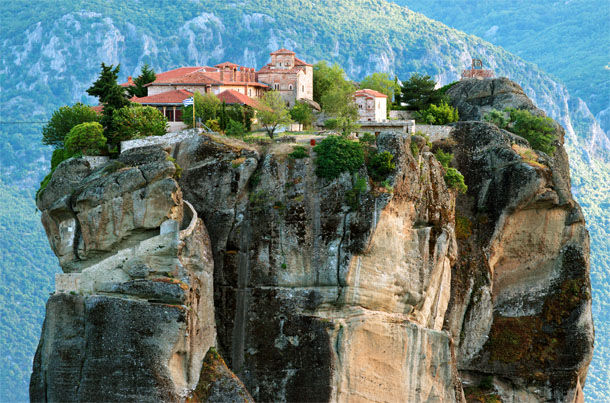 Meteora, Greece
Being UNESCO's World Heritage Site, Meteora is the largest Greek Orthodox monasteries after Mount Athos. It is composed of six monasteries which are all built on sandstone rock towers. These towers are approximately 310 meters tall offers an astonishing view.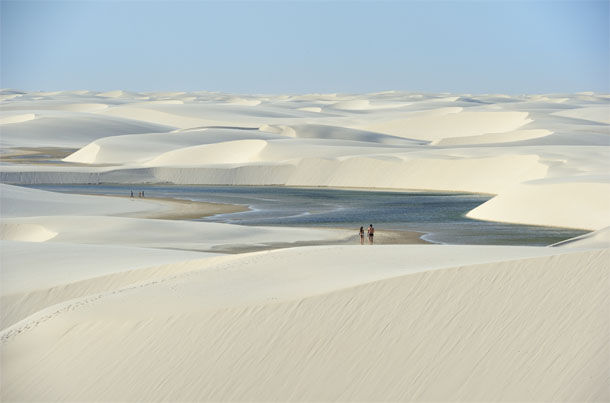 Lencois Maranhenses, Brazil
Another heaven-like corner in the world is Lençóis Maranhenses located in Maranhão, Brazil. Encompassing nearly 1500 square meters of area, Lençóis Maranhenses appears to be a white desert at first sight but it is not. Although the area receives abundant rain no vegetation is possible. However many fish species live in the lagoons which are surrounded by powder-like dunes.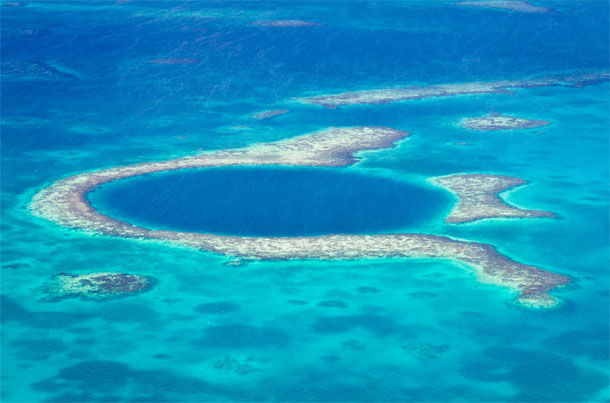 Great Blue Hole, Belize
The last wonder that I can count is Great Blue Hole. This submarine sinkhole is located off the shores of Belize. The diameter of the hole is nearly 300 meters and the depth is 124 meters. According to the scientists, Great Blue Hole was started to be formed 153000 years ago during glaciation and when the sea levels were lower and when the sea level started to rise the cave was flooded.