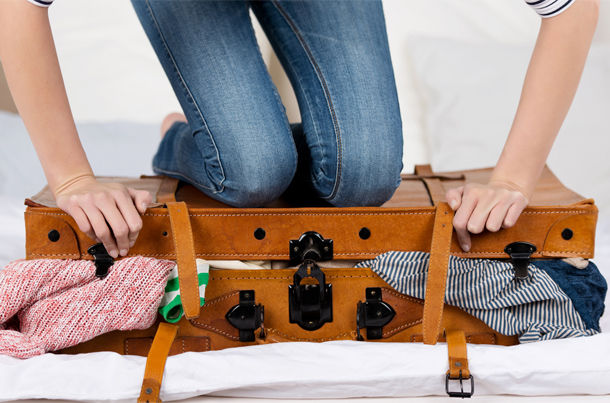 Packing up before a short trip may be one of the most irritating things in life because fitting your stuff in a small suitcase has always been too hard. You just can't decide what to put in and what to put out and most of the time you don't find it in your heart to sacrifice the things you are leaving behind and you also manage to put them in that luggage somehow. In the end, you need to jump on your poor suitcase or at least sit on it to be able to zip it up. And after all this struggle, you end up with waiting for your big luggage at the carousel while other people pass you by pulling their tiny carry-on bags. I know this is annoying but I also know that telling someone (or myself) to just pack less will not be enough. Because packing everything (including in case I need that things) makes you feel safe. Now, you have another option. If you are interested in travelling free as a bird with your light yet efficient luggage, these tricks will make your day!
1. Start Making a Check List
You may think that it is not the most clever thing to do but making a check list before you pack up will make you understand which stuff is really essential for you or not. Instead bringing everything in the middle of the room and then decide in the piles of clothes, organizing the content of your luggage on a piece of paper first will help you a lot.
2. Be Layer Friendly
If you are travelling to a cold country, instead of taking bulky clothes, try another options to warm you up. You may prefer thermal garments and take a light jumper for example to combine with a shirt instead of filling your space with a hefty jacket.
3. Shoes Matter
I know your style is important wherever you are but you really don't need to have one pair of shoes for each of your outfit. Rather than a pair fancy shoes, save some place for shoes that will go well with more than one outfit. When you are to dress formally, you will need a pair of smart shoes and when you explore the city in your free time you will need your favorite casual shoes. Nothing more. We will also turn your shoes into some extra space in your luggage. Guess how. You'll put some of your small items like socks, ties, jewelry or underwear inside the shoes. No, that's not disgusting. Plastic or zip-lock bags are invented for this duty, aren't they?
4. Employ Space Bags
Space bags are the greatest invention ever, for me. They are definitely the definition of saving extra space. So let these cute space bags do the work for you. I must say these travel space bags that I'm talking about are wrinkle-free unlike the ordinary space bags and you don't need to worry about ironing!
5. Travel Size Fits You
Do you think you really need to carry those shampoo, face cream, shower gel, toothpaste or perfume bottle with you? No, you don't. Relying on the hotel versions of them is an option but you can also fill your own travel size bottles. If you want neither of them, there is still an option if you are not travelling to Moon. You can buy them wherever you go.
6. Remember Hotel Laundry Services
Yes, hotel laundry services are for this very reason: Doing the laundry. It means you don't really pack tens pairs of socks or dozens of shirts. Don't hesitate to use this service because it will gain you that extra space you've always wished for.
7. Don't Fold but Roll Your Clothes
You can try this old trick at home. Fold your jeans, measure up the space it occupies and then open it back and fold. Then measure the occupied space again. Actually you don't need to measure it because it is observable. It is absolutely wise to roll.
8. Ship the Extra Stuff
If you still need to take more stuff with you, sample items for your business maybe, and you don't want to carry a heavy luggage anyway, you can ship the extra stuff beforehand and your luggage will be waiting for you when you arrive at your hotel. It is wise to do this because it will be much cheaper than the overweight bag charges of the airlines.
9. Leave Some Room for the Shopping
Don't think you still have some space for the things that you need to leave behind. No, you don't actually because you will need that very space when you buy some cool stuff from where you go. You don't want to carry those shopping bags with you, do you?
10. E-Book Readers are Cool
You might love to read a book on the plane or in your room after tiring business days but you also know that books are not flexible and they take up a lot of space in your bag. So e-book readers are just for you in such cases thanks to their long battery life and high storage capacity. Don't be biased about e-books. They can actually save your life.
0.5. If in Doubt, Put it Out
Being in doubt about taking an item with you or not simply means that you actually don't need it. So sacrifice it for the sake of lightness and leave it behind. Now you are good to go.